Unlike the service sector and the production of other goods, the catering sector is an activity that does not know the seasons. During a crisis, people may not buy new clothes, but they cannot survive without eating.
Everyone needs to eat, but nowadays, especially in big cities, fewer and fewer people can or have a lot of time to cook, let alone do it.
Therefore, the restaurant business opportunity is quite wide. The important thing is to try to find a way around the competition among the restaurant stalls.
Instead of keeping your skills and recipes for your family, you can use your skills and cooking to your advantage. There is no need to rent a seat first, everything can be started from your home.
A. Location, taste and price
If you want to grow up, the restaurant industry requires a strategic position. But, in fact, you can still open a food stall even if your home is at the end of an alley.
The trick is to adjust the price and the food sold to the surrounding environmental conditions.
For example, if your home is close to campus, you can provide affordable home-cooked meals for students. Fortunately, a little is fine, as long as a lot of people come to buy.
However, what makes people come back to buy at your kiosk is the taste of the food served. Therefore, make sure your food tastes good to most people.
To begin with, you can try it by preparing dishes for relatives or neighbors. Ask them to try and ask what the flaws are.
B. Place
You can use the courtyard, living room or garage as a refreshment point. Try to spruce up your food stall so that visitors feel comfortable eating there.
At least, by repainting, placing a fan and arranging the furniture in the room to make it wider.
Since this is a food business, the most important thing is to always keep the room clean. Place garbage cans in suitable places and keep animals that may come in and out.
If you have sufficient funds, you can also make a sink so visitors can wash their hands before and after eating.
Place tables and chairs and arrange them in such a way that visitors feel at home for a long time. If the concept of your warung or restaurant business is a family restaurant, place a large enough table with at least 4 chairs around it.
As for food stalls specifically for students, arrange them in such a way that there are plenty of seats.
This can be done by placing the table lengthwise or fixed to the wall with a long chair, the capacity of which can be filled to the maximum.
Sometimes there are customers who want to ask for extra spoons or forks, or maybe even glasses. If you don't want to be bothered, you can put spoons, forks, glasses and paper napkins on the table.
Be diligent to refill it when it is out of stock.
C. Required equipment
The furnishings and equipment needed to create a simple food kiosk, depending on the capacity and size of the business, are as follows:
Cooking utensils
tables and chairs
silverware
distributor
ethalase
refrigerator to store groceries
dll
To get a relatively lower price, you should have a supplier or shop where you buy your daily groceries.
D. Service
One of the most important things in a restaurant business is the service. In order for customers to return to your restaurant, it is very important to create a main menu.
This menu doesn't have to be fancy. Ordinary foods cooked differently, such as ayam kremes, fried tempeh, which is thinly sliced ​​and then fried with unique spices, are enough to make your dish your staple.
There are also restaurants that grab the attention of customers by giving unique names to their food, such as many shrimp fried rice (no eggs), etc.
You can also provide free services, such as drinking water. A dispenser can be placed in the dining room so that visitors can freely take drinking water.
But, of course, the cost of providing free drinking water was covered by other products sold in your restaurant business.
The prices at the food delivery stalls are different from the food prices at the large restaurants. The price of a portion of rice at the stall starts from IDR 1,000 – IDR 2,000.
Meanwhile, in restaurants it is around Rp. 2,000 – Rp. 3,000. A side dish in the shape of meat (chicken, empal) costs IDR 2,500 – IDR 5,000. One serving of vegetables is IDR 1,000 and eggs (omelettes, boiled, beef eyes, etc.) IDR 1,000 – IDR 1,500
In a home shop, a whole serving of meat costs Rp. 8,000 to Rp. 12,000, while a restaurant costs Rp. 15,000 – Rp. 20,000.
Some stalls or restaurants free their guests to bring their own food, which is called a buffet.
There are also those who only free the shoppers to take the rice. In some stalls, buyers have to pay for everything in advance, there are also those who pay after eating.
If the shopper pays after eating, the waiter doesn't usually supervise specifically, so a payment system like this requires trust between the shop owner and visitors.
Visitors can pay less than they consume. The buffet system will provide its own value because visitors will feel free to take the food in portions according to their wishes.
Also be sure to use a rice cooker to keep the rice warm and durable.
Calculate the time of your restaurant business so that people can have breakfast, lunch and dinner there. Usually, food stalls open from 6am to 9pm.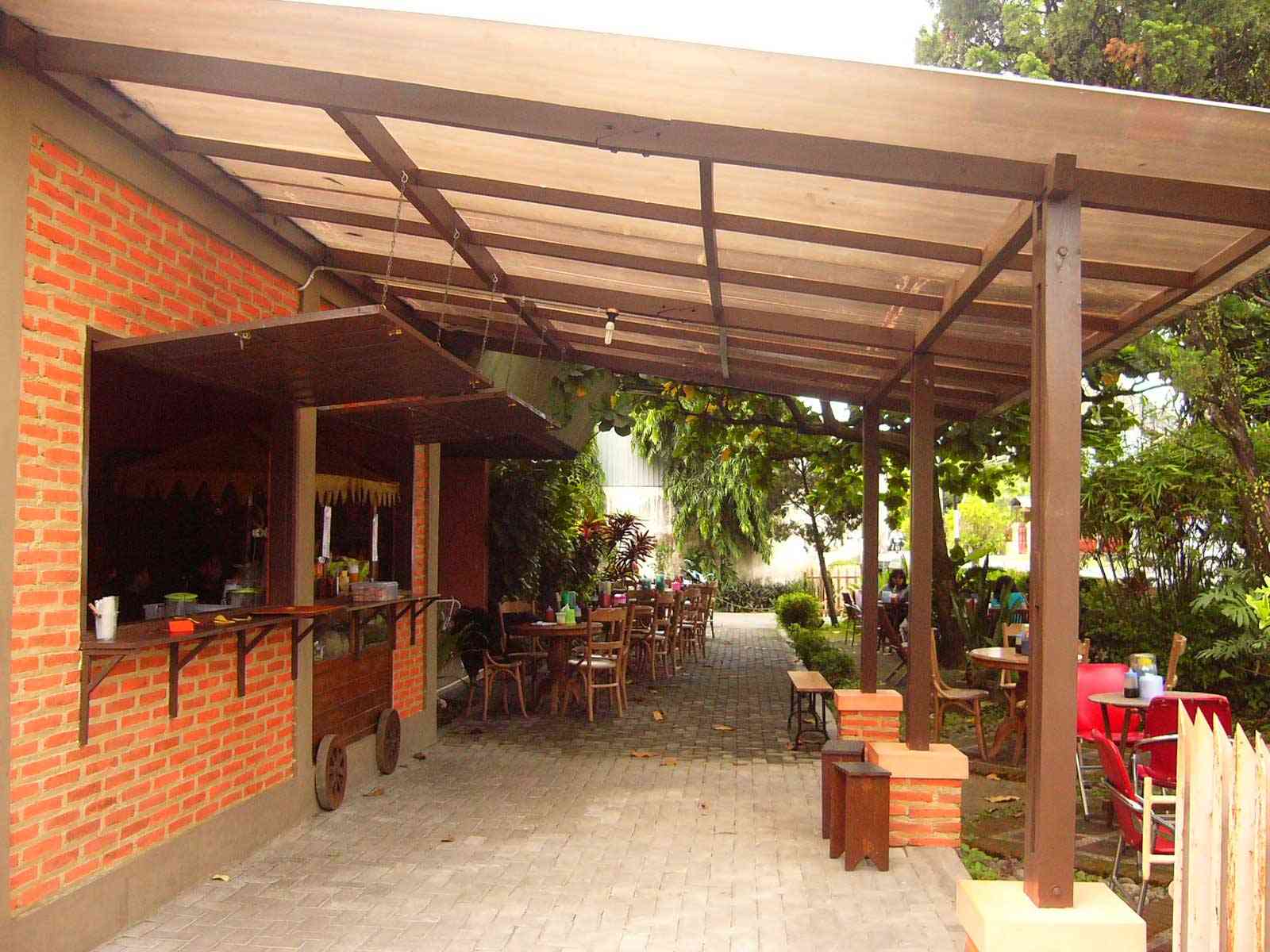 E. Order Acceptance and Catering
If there is still time and human resources to do other things besides food stalls, you can also take orders for boxes of rice and tumpeng for various events, such as social gatherings, acting, thanksgiving, birthdays, and so on.
The price of canned rice in the Jakarta area ranges from Rp. 8,000 – Rp. 25,000, depending on the menu offered.
You can also open a restaurant business because this business is inseparable, it can even support your restaurant business.
If the stall or restaurant is empty, you can count on the income from the restaurant.
In the pension area it is possible to serve catering for the boarding of children with prices starting from IDR 7,000 – IDR 15,000 per portion with delivery service. Customers can choose the menu but still adjust to the price.
For a larger scale, you can also submit a proposal to offices, businesses, or schools to serve lunch.
Therefore, the income of your restaurant business will be more stable. Prepare a tester so that the office or school can try the food.
Even the price of the portion buffet restaurant is adjusted according to the menu and has an agreement with the office. It's just that you need additional equipment and also a food delivery vehicle for catering.
In addition, there are also many offices that want their food to be prepared buffet style. Some offices or businesses generally have strict standards for selecting the caterers they will use.
Therefore, it is necessary to provide a professional waiter to serve them.
F. Business analysis
This business analysis is based on gross estimates and various assumptions from different sources. It is very likely that there is other information that has not been taken into account. The assumptions used are the following
The service life of the stove and the gas cylinder is 3 years
The shelf life of the refrigerator is 5 years
The duration is 3 years
The shelf life of the table and chairs is 2 years
The duration of the distributor is 2 years
The lifespan of the rice cooker is 1 year
The service life of kitchen utensils (pans, pans, sockets, etc.) is 1 year
The shelf life of the cutlery (spoons, forks, plates, glasses) is 1 year
1. Investment cost
The following are investment assumptions that must be issued to open a restaurant business.
Information
Price (Rp)
Renovation expenses for restaurants
2,000,000
Tables and chairs
1,000,000
Refrigerator
1,000,000
Gas stove and cylinder
700,000
Ethalase
1,500,000
Electric kettle for rice
200,000
Dispenser and gallon
220,000
Cooking utensils
in. when
b. cooking pan
c. casserole
d. belly
And. other equipment
a. 180,000
b. 25,000
c. 110,000
d. 85,000
And. 100,000
Cutlery (spoon, fork, plate)
200,000
Total investment
13,820,000
2. Monthly operating cost
Information
Value (Rp)
Fixed cost
Fridge collection 1/60 x 1,000,000
17,000
Showcase collection 1/36 x 1,500,000
41,700
Withdrawal of gas stove 1/36 x 700,000
5,600
Collection of tables and chairs 1/24 x 1,000,000
41,700
Dispenser and shrinkage of 1/24 x 220,000 gallons
9,200
Rice cooker collection 1/12 x 200,000
42,000
Amortization of pots 1/12 x 500,000
17,000
Collection of dishes 1/12 x 200,000
17,000
Salary employee 2 people
500,000
Total fixed cost
690.900
Variable cost
Purchase of materials
a. Rice
b. Chicken
c. Vegetables, fish, eggs, spices
d. Gas 2 cylinders per month
And. Communication fee
f. Promotion commission
g. Transport costs
h. Cost of electricity
a. 2,400,000
b. 3,150,000
c. 9,000,000
d. 108,000
And. 100,000
f. 300,000
g. 100,000
h. 100,000
Total variable cost
15,258,000
Total cost
15.948.900
3. Average revenue per month
Within a month, you can get income from different sources. Here are some of the details.
| Information | Value (Rp) |
| --- | --- |
| Sale of food (50 servings) x 6,000 x 30 days | 9,000,000 |
| Beverage sales (30 glasses of sweet iced tea) x 1,500 x 30 days | 1,350,000 |
| Catering order acceptance 100 boxes x 15,000 x 5 days | 7,500,000 |
| Catering acceptance 100 portions x 10,000 x 30 days | 30,000,000 |
| Total receipt | 47,850,000 |
4. Profit per month
Profit = Total Revenue – total operating costs
= IDR 47.850.000 – IDR 15.948.900 = IDR 31.901.100
Payback Period = (Total Investment: Profit) x 1 month
14,119,000 IDR: 31,901,100 IDR x 30 = 14 days
Additional reference: TokoMesin.com