Marketing handmade flannel products with a shipping system is sometimes less effective because only a few people buy this product in stores every day so that the speed of money becomes slow.
Meanwhile, opening a store by renting a place costs even more. The profits you make are used for the rental costs.
In the meantime, using a house as a place of sale requires special conditions, that is, a strategic and easily accessible location.
This marketing difficulty is what Yuliana Setianingsih is trying to get around. The flannel craft business can also be known off the island, apparently thanks to the website or online shop created by her husband.
On the website www.malvakayla.com, Yuli and her husband posted photos of various flannel products as examples of goods to trade.
The images in the online shop are also accompanied by a description of the size, name and use of the product, as well as the price. Website visitors can choose the product according to their wishes.
Customers only enter the number of orders according to their needs. Any product ordered will be added to the "shopping cart" on the website.
Even though the marketing is done online, Yuli doesn't need to turn on her computer 24 hours a day. Just check the website and email 3 times a day to save on electricity consumption and internet costs.
It takes more time and money if you want to update your website with new photos and product descriptions.
The name itself "MalvaKayla" is taken from the name of Yuli's first son who died. He called this flannel craft business as another space where his son's name will remain forever in his heart and in others.
The business, which began in May 2006, emerged from her boredom of not carrying out other activities besides being a housewife. In fact, Yuli was previously a newspaper reporter.
The entire family, including Yuli's father, mother and husband, is also involved in the production process and delivery of the product.
If they are overwhelmed with placing many orders at once, Yuli asks the housewives in her home to help out in the flannel craft business for a certain fee.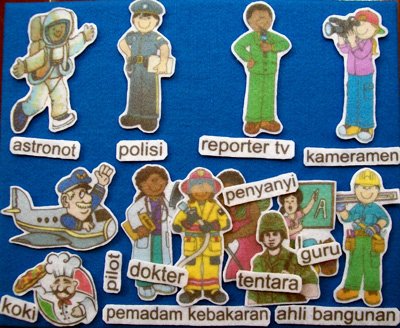 He has also innovated by making flannel products that are out of the mainstream. This mother of one has chosen to focus on flannel crafts with the kids segment.
With an educational background in educational technology, Yuli has made flannel products in the form of various educational toys for children, especially those under the age of 5.
The product, which is practically new, because it has never been made by anyone else, is a cloth book. This fabric book is meant to invite children to learn something with fun tools.
So far, Yuli has made three series of cloth books, namely: various insects, color recognition and various birds.
In addition, they are also there when learning the basic concepts of counting. It can also be used for cloth dice games. This toy, suitable for children aged 1 to 4, is designed to train children's hand-eye coordination in throwing and catching dice.
Thanks to her innovations in flannel crafts and various other educational toys, as well as her online marketing, Yuli has received many orders from outside of Java, such as Aceh and Kalimantan.
In peak periods, the turnover can reach 8 million rupees per month. Several TV stations are also willing to explore the twists and turns of the road to Ibu Yuli's house to cover her work.
Some coverage that has been done in the media, such as:
Majalah NATION WIDE (Lion Air Flight Magazine) No. 10 vol 3, 2006.

Trans TV, issue of Good Morning Saturday 13 January 2007.

Trans TV, Friday 2 February 2007 edition of the afternoon story.

SHARING Magazine (MajalahEkonomi Plus) Issue of February 2007.

Trans 7, The Study of Silaturahim edition Monday 12 February 2007

Beauty Information Tabloid No. 23 / year I / 23 July-5 August 2007

PengUSAHA Magazine Issue 75 / August 2007

Trans TV, Monday 3 March 2008 edition by Jelang Siang.

Trans 7, Laptop Si Unyil edition on Monday 28 April 2008.

Tabloid Mom & Kiddie 19th II edition 5 – 18 May 2008

PAIR Revised October 2, 2008

KARTINI Magazine number 2228, October 2008

Tabloid online KONTAN Tuesday February 17, 2009

ALIF magazine n. May 22, 2009

TV One, Bunga Rampai, edition Tuesday 16 June 2009

ALIA magazine n. 01, Year VII, July 2009

TV Indosiar, Harmoni edition Saturday 31 October 2009

ANTV, Laris Manis edition Monday 16 November 2009

Business Opportunity Tabloid 18th V edition, 12 May 2010

May 2010 issue of Inspired Kids Magazine

Trans TV, Afternoon Reportage, edition Tuesday 25 May 2010

TPI (MNCTV), Lintas Pagi edition (Inspiration) July 14, 2010

And many others…
The house is in fact quite difficult to reach. People had to go by motorbike or go through the alleys.
This profile of a successful entrepreneur is in fact a true example that demonstrates that it is not necessary to own a house that is in a strategic position to develop a business.
Interested in learning more about the craft of MalvaKayla flannel? Here is his full profile:
Shop:
Cililitano Wholesale Center (PGC) Lt. 3A n. 38
(near the yellow escalator)
tel. 0838-08557788, 0878-75120605
Garage:
Jl. Batu Jamrut V RT 05/05 n. 8, Condet Batu Ampar
Kramat Jati, East Jakarta 13520.
Website: www.malvakayla.com