It can be said that the "Prada" wedding souvenir business emerged because it started with the owner's trial and error. Ferrane's passion for making beautiful accessories has turned into a business that brings a lot of profit.
The blessing of this wedding souvenir business is not just for him, but also for the five employees he employs. His business was founded in his family's home in the Pasar Minggu area.
She started this wedding gift business by making acrylic-based items with creative ideas and some simple tools.
His business began in 1998, when a friend who was getting married asked him to make wedding souvenirs. At that time, he was familiar with acrylic material and was trying to make photo frames out of it.
It turns out he could do it and the results were satisfying for his friend. After the souvenir order was completed, Ferrane's friend recommended the souvenirs made by Ferra – Ferrane's nickname – to other friends.
Since then Ferra has begun to receive orders from people who are getting married.
The souvenir products it offers also vary, including memo holders, photo frames, business card holders, candle holders, key rings, and many other products. Frames and memo holders are objects that often receive orders from customers.
The price also depends a lot on the level of difficulty of manufacture and the size, with a price range from Rp. 2,500 to Rp. 10,000 per item.
Usually, customers order this wedding souvenir by paying a deposit (down payment) half of the total cost required. After the souvenir making process is almost complete, the customer has to pay it back.
Within one month, Ferra receives orders for the production of wedding souvenirs of about 5-10 orders with a number of each order between 200 and 1000 souvenirs.
In some months, when many people organize a wedding party, the turnover of this wedding souvenir business can go up to 20 million rupees.
Customers who place an order usually go directly to the Ferrane headquarters. They immediately choose or design their own souvenirs they want. Examples of the shape are already available in the wardrobe and shelves of his living room.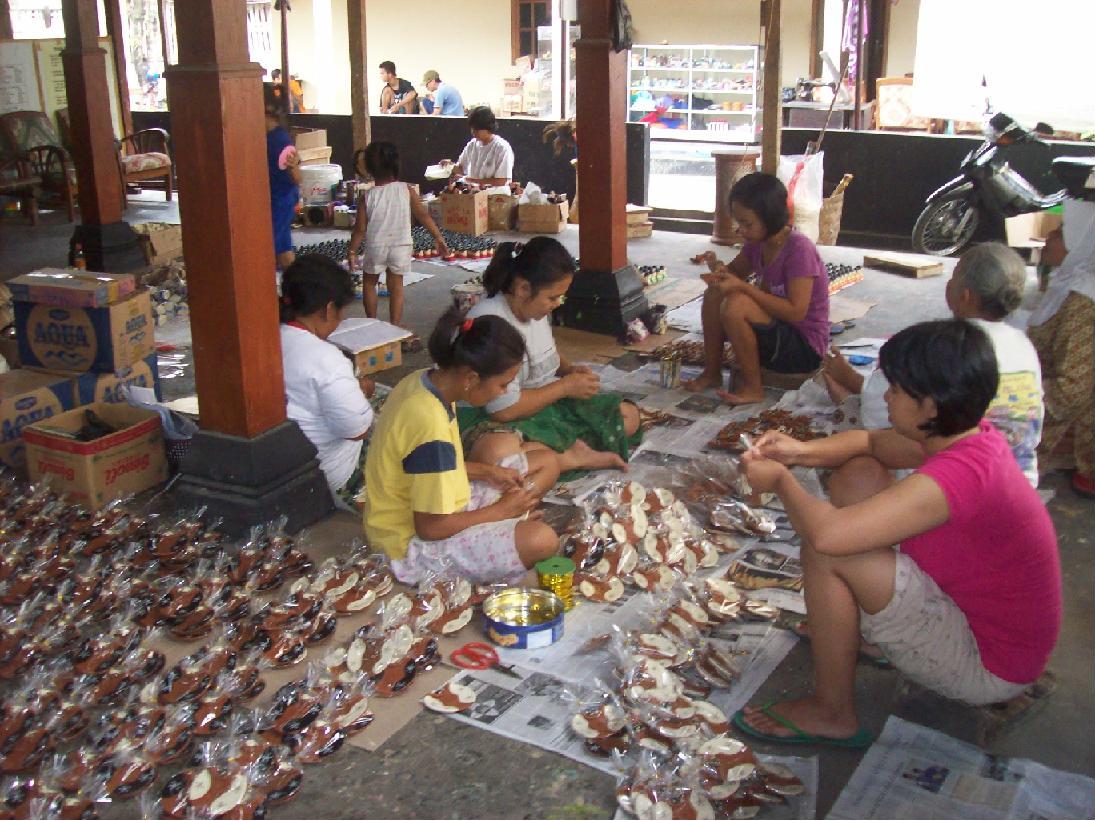 There are also some customers who deliberately order goods in sufficiently large quantities from Ferra with the aim of reselling them. These orders come not only from the city of Jakarta, but also from outside the city.
Goods ordered out of town will be shipped by Ferra with shipping costs to be paid by the customer.
The work is done by five of his employees, while he designs and packages them only in plastic or boxes. The manufacturing process itself is carried out in a rented house owned by an employee in the Ciledug, Tangerang area.
Meanwhile, in the Ferrane house there are semi-finished products, which require only final touches, such as fixing accessories and other components.
For processing final touchlike the installation of mirrors, waste paper and screen printing, he deliberately gave orders to other people.
This effort was made with the initial intention of helping the five employees who came from the area and were looking for work in Jakarta. Ferra, therefore, does not implement a wage system but provides them with a monthly salary.
The promotion implemented by Ferra to market its wedding souvenir products is quite simple. He put a sticker with Prada's business name and phone number on the souvenir packaging so it was easy for other people to order similar souvenirs.
However, Ferrane relies more on promotion word of mouthor the word of mouth of customers who have purchased their products.
The craft activity requires perseverance and completeness. However, in running this type of business, it is not necessary to travel a lot outside the home.
This type of activity can also be learned by anyone. Even a housewife who is pregnant or busy taking care of children can still run this business from home.
There are many craft activities that can be done at home. The materials also vary, from clay, patchwork, wool yarn and so on. However, as the scale of the business is small, capital and marketing are often the main obstacles to developing this business from home, so continuous innovation is needed.
Complete information:
Prada wedding souvenir business